By running more efficient lighting, appliances and equipment, federal agencies can cut energy costs, devote more resources to their core missions and operate more sustainably. Meeting these economic and environmental challenges often comes down to what products we buy. Federal agencies have been encouraged or required to buy energy efficient products since the 1970s. Berkeley Lab's Sustainable Operations (SO) Group studies the dynamics of markets for clean energy technologies, aids federal agencies in meeting their requirements and quantifies the impacts of those procurements.
Our research focuses on: 
Strategies for enhancing uptake of energy efficient products in the public sector
Pathways and barriers to increasing compliance with federal procurement mandates
Economic and environmental impacts of purchasing energy efficient products
Learn more about our work and the federal government's pursuit of greater energy efficiency: 
For 30 years, Berkeley Lab and the U.S. Department of Energy (DOE) have worked to increase federal procurement of energy-efficient technologies. In aggregate, the federal government is the largest U.S. purchaser of energy consuming products. It thus represents large potential for cost savings, reduction of environmental impacts and influence over the availability and price of efficient products for households and businesses. In a recent study, we found that full compliance with federal requirements for buying energy efficient products would achieve more than $300 million dollars in energy savings annually and avoid roughly a million tons of CO2e emissions.

The SO Group works with the Federal Energy Management Program (FEMP) to realize those savings by addressing the challenges that federal agencies face in procuring energy efficient products. We educate and assist federal agencies with market assessments, training, impact evaluations and direct technical support.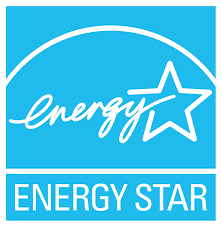 When buying energy-consuming products and services, federal agencies are required by law to buy products that are energy efficient. Federal acquisition regulations, most recently FAR Clause 52.223-15, require that any energy-consuming products bear the ENERGY STAR label or are designated by DOE's Federal Energy Management Program (FEMP) as being in the upper 25% of energy performance among similar products.
These laws and regulations date back to the energy crisis of the 1970s. Congress has strengthened those mandates over the decades, and the executive branch has reinforced and provided guidance on achieving those mandates through regulations and executive orders (EOs), most recently EO 13990 on Protecting Public Health and the Environment and Restoring Science to Tackle the Climate Crisis and EO 14008 on Tackling the Climate Crisis at Home and Abroad. 
Through EO 13990, President Joseph R. Biden Jr. announced a policy of improving public health, protecting the environment and reducing greenhouse gas emissions while creating jobs and ensuring environmental justice. With respect to federal agencies and their acquisition decisions, the president specifically ordered federal agencies to:
Review all recent federal regulations, policies and orders and rescind, revise or suspend any that are inconsistent with protecting the environment, reducing greenhouse gases and ensuring environmental justice, with special attention to those regulations and orders bearing on:

Cost-benefit analyses for federal energy and climate actions
Energy performance standards for appliances and consumer products and building energy codes

Account for climate benefits in federal policies and actions, in part by developing estimates for monetizing the value of reducing greenhouse gas emissions through avoided climate damages.
Through EO 14008, President Biden additionally put forward a policy "to organize and deploy the full capacity of its agencies to combat the climate crisis to implement a Government-wide approach that reduces climate pollution in every sector of the economy; increases resilience to the impacts of climate change; protects public health; conserves our lands, waters, and biodiversity; delivers environmental justice; and spurs well-paying union jobs and economic growth, especially through innovation, commercialization, and deployment of clean energy technologies and infrastructure."
Specifically, the order tasks all federal agencies with:
Developing a comprehensive plan to create good jobs and stimulate clean energy industries by revitalizing the federal government's sustainability efforts. The plan "shall aim to use...all available procurement authorities to achieve...a carbon pollution-free electricity sector no later than 2035"
Identifying opportunities for federal funding to spur innovation, commercialization, and deployment of clean energy technologies and infrastructure
Developing and implementing action plans within 120 days for using "the power of procurement to increase the energy and water efficiency tof United States Government installations, buildings, and facilities and ensure they are climate-ready. Agencies shall consider the feasibility of using the purchasing power of the Federal Government to drive innovation, and shall seek to increase the Federal Government's resilience against supply chain disruptions." Annual progress reports are required.
Key legal authorities and associated federal and Berkeley Lab responses are illustrated in the timeline below.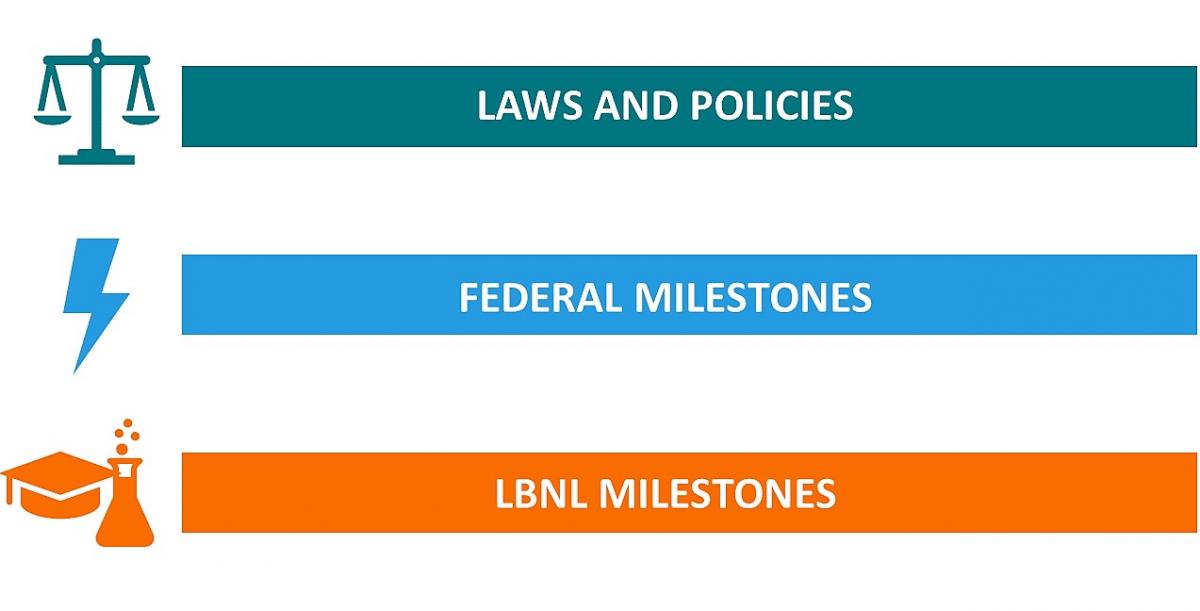 Our resources and tools help federal and state agencies meet energy efficiency purchasing requirements. We provide: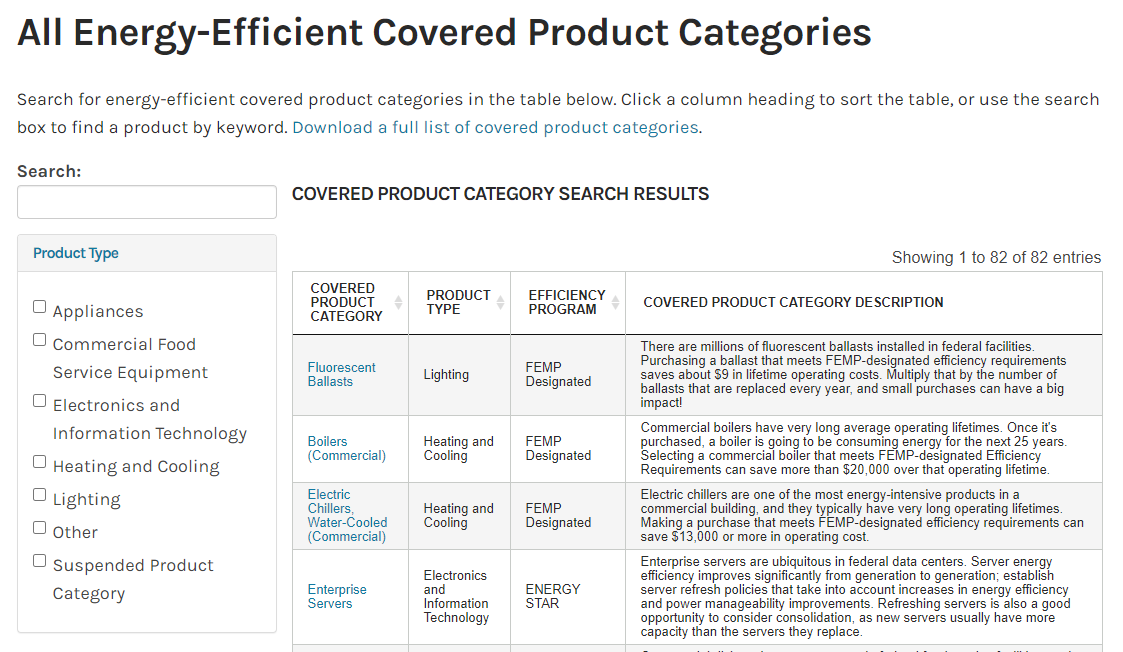 Contact team members below by email or reach out to the group directly for any program-related questions at SustainableFedOps@lbl.gov
The SO Group reviews federal solicitations for the supply of products to assess compliance and identify obstacles with purchasing energy efficient products. Our reviews focus on the inclusion of FAR Clause 52.223-15, as well as additional language that emphasizes the desire for energy efficiency products. We conduct both automated and manual reviews of federal solicitations and classify compliance as shown below. 

We review solicitations for all energy consuming products and sort them into three categories based on the information they provide: non-compliant, FAR compliant or effective compliant. Non-compliant solicitations have no mention of energy efficiency or efficiency requirements while effective compliant solicitations are more explicit and more likely to result in purchases of energy efficient products. FAR compliant solicitations only include FAR clause 52.223-15 and have no other mention of efficiency requirements in other parts of the solicitation. Federal effective compliance rates vary by the nature of the contracting arrangement.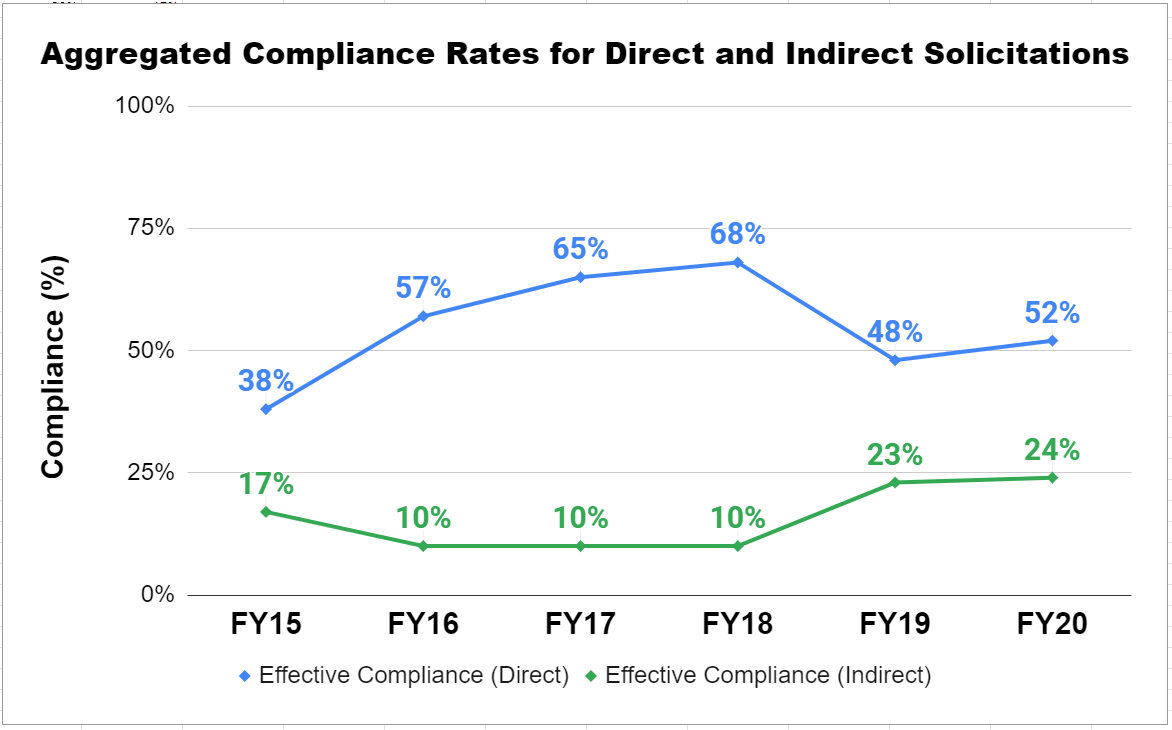 The graph to the right shows effective compliance rates from FY15 to FY20 for all direct solicitations (blue) and separately, effective compliance rates for all relevant indirect solicitations (green). Direct solicitations are federal requests for vendors to bid on supplying products to the government. With indirect solicitations, a contractor is empowered to acquire a product on behalf of the government (e.g., through a maintenance contract).
Our reviews indicate that federal agencies sometimes overlook or otherwise miss opportunities to include language that specifies energy efficient products in indirect solicitations, hence the comparatively lower compliance rates for indirect solicitations shown in the graph. 
Federal agency FAR-compliant rates for meeting requirements on purchasing energy efficient products vary both among and within those agencies. The graph below shows the number of compliant solicitations in federal agencies differs depending on the department.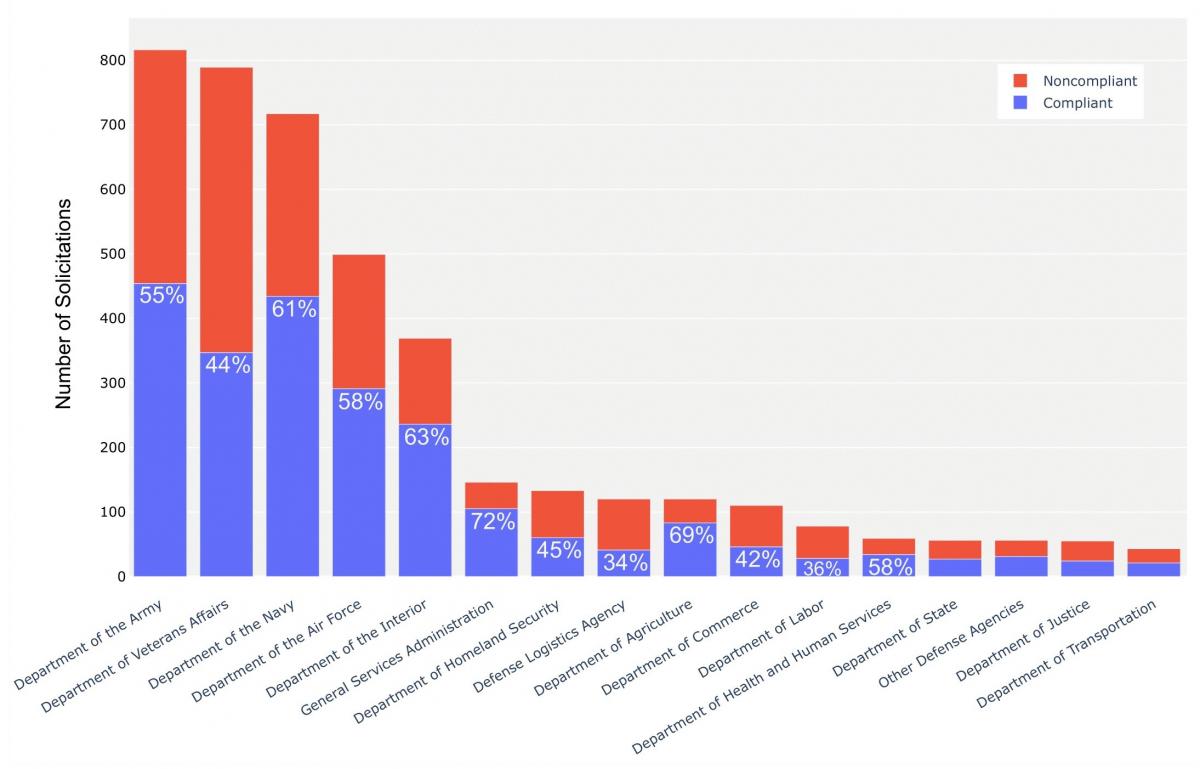 When we further explored agency-level compliance, we found that even offices within agencies had a high level of variability with FAR-compliant rates. The chart below shows the FAR-compliant rates for offices grouped within different federal agencies.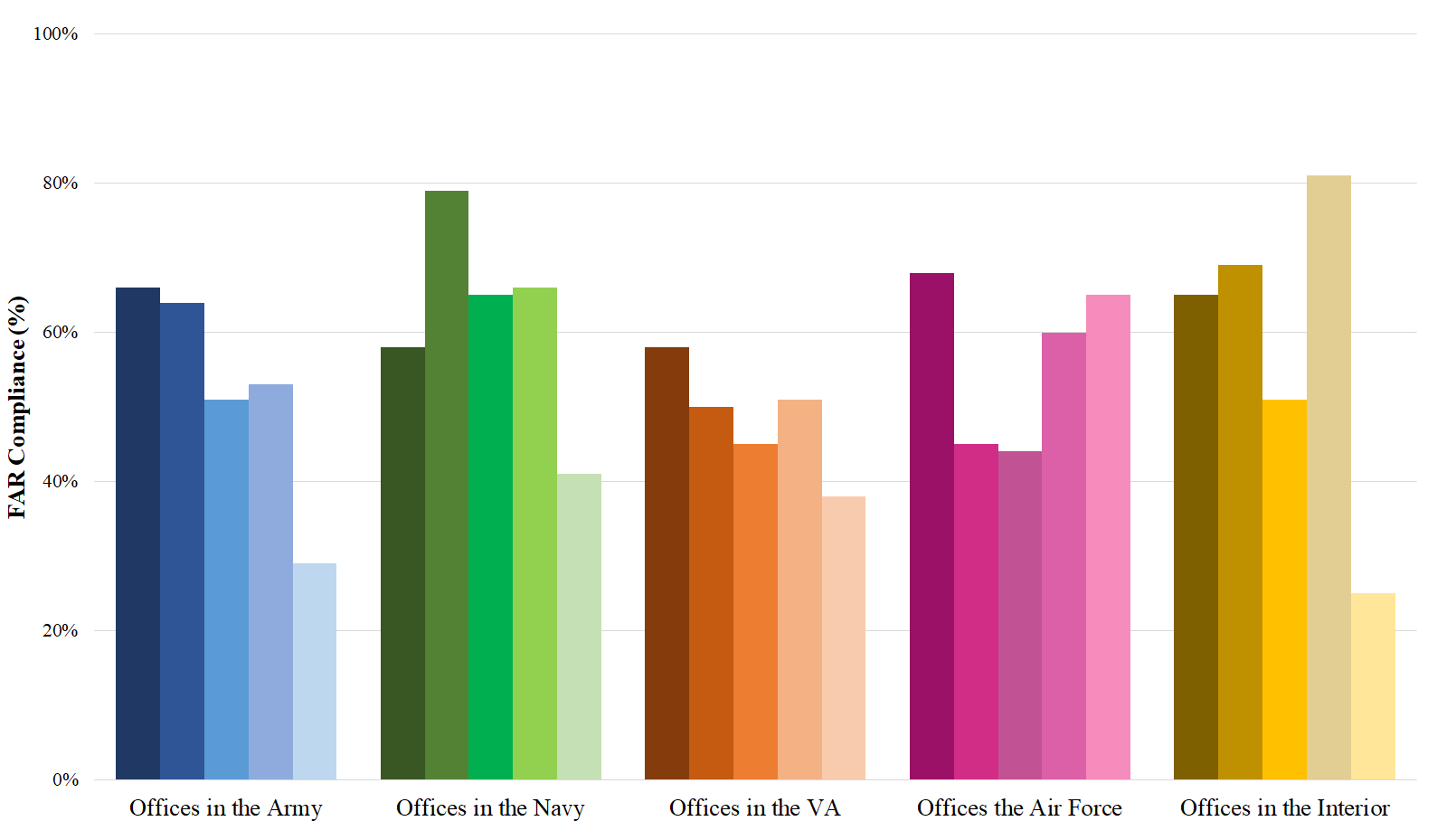 Berkeley Lab has published multiple studies reporting significant energy cost savings and GHG emission reductions the federal government can achieve by complying with energy efficiency requirements. The latest analysis by the SO Group estimates that by fully complying with energy efficiency purchasing requirements, the federal government can see overall operational cost savings of about $310 million and 1.3 million CO2 equivalent metric tons of emissions saved every year.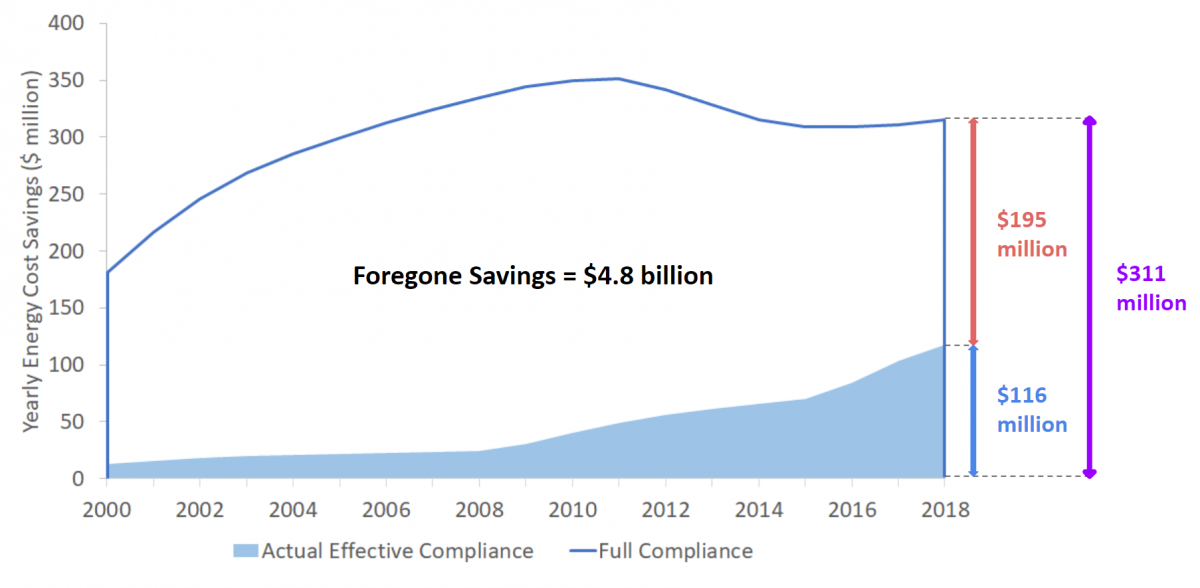 Since the start of the century, the federal government could have saved $4.8B by fully complying with federal energy efficient purchasing requirements. The SO Group will continue to work to evaluate the impact energy efficient product procurement can have within the federal government in the coming years. 
The SO Group has contributed a large collection of studies, reports, and training around energy efficient product procurement. Many of our resources are intended for federal agencies but can be applicable to other public and private organizations.